A Steering Committee, Advisory Council, and Regulatory Acceptance Board as well as Editorial Committees, Validation Management Teams, and Peer Review Panels are to be established in order to ensure that JaCVAM activities are managed and implemented properly.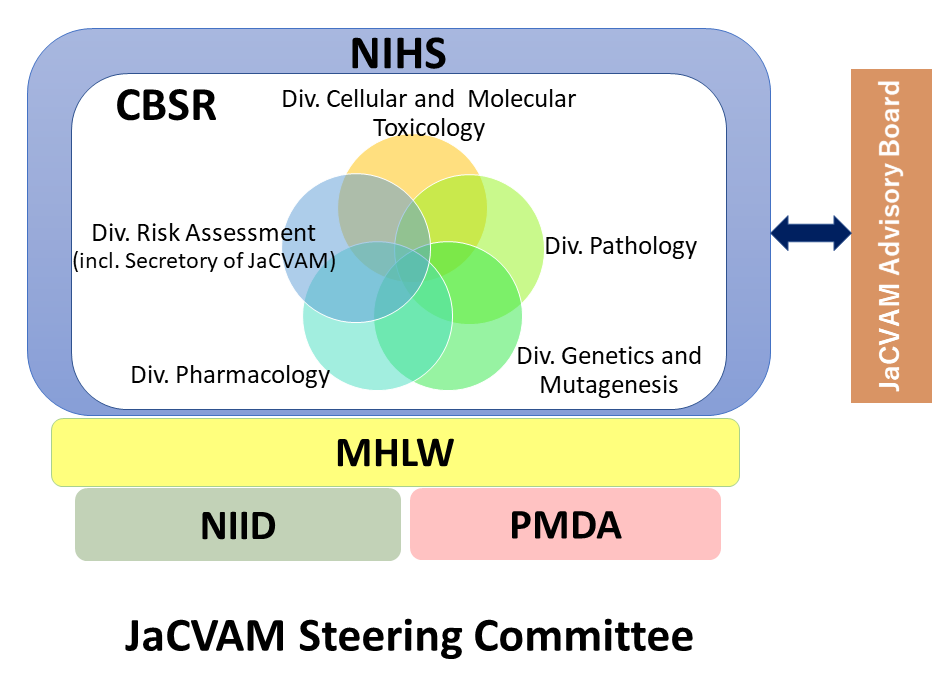 Steering Committee
The Steering Committee determines which novel or derivative test methods are to be selected and assessed by JaCVAM as well as allocates both financial and human resources necessary to undertake the scientific validation and assessment of such test methods. It also reviews final reports issued by the Advisory Council, issues JaCVAM statements on test methods that have been determined to be suitable for use in a regulatory context, and reports these results to the appropriate agencies within the Ministry of Health, Labour and Welfare as well as to the general public. In addition, the Steering Committee appoints members of the Advisory Council and the Regulatory Acceptance Board as well as the chairs of each Editorial Committee, Validation Management Team, and Peer Review Panel.
Advisory Council
The Advisory Council receives at least once per year reports from the Steering Committee on JaCVAM operations, planning, and achievements, which it reviews and provides advice as necessary.
Secretariat
The Secretariat manages the operation of JaCVAM, providing support for activities undertaken by the committees and other bodies stipulated in Articles 4 to 9 as well as cooperating and collaborating with academic societies and other organizations that are involved in the evaluation of alternative methods to animal testing in assessing the safety of chemicals and other substances, both in Japan and around the world. The Secretariat also assembles, organizes, and makes available to others a wide range of information on the evaluation of test methods.
The Secretariat provides the Steering Committee with recommendations for candidates for members of the Advisory Council, the Regulatory Acceptance Board, and Editorial Committees as well as chairs for Validation Management Teams and Peer Review Panels. In addition, the Secretariat provides the chair of each committee or other body with advice on the selection of members.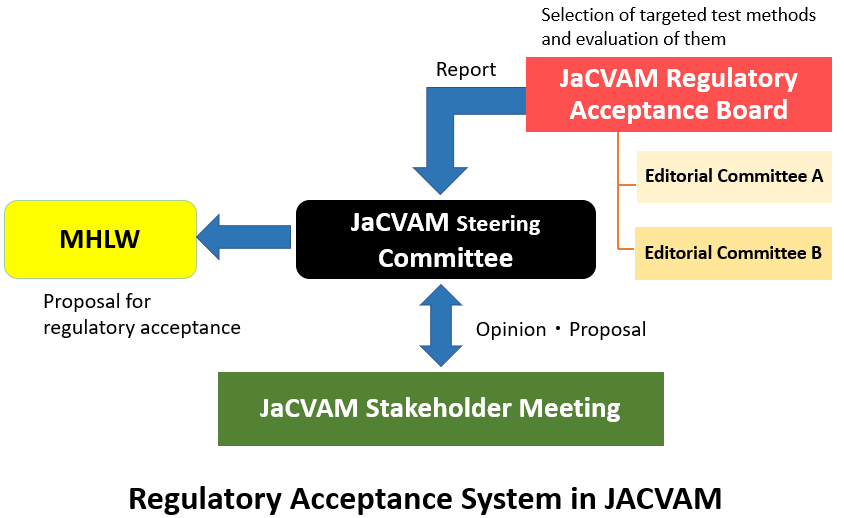 Regulatory Acceptance Board
The Regulatory Acceptance Board examines reports provided by Editorial Committees and background information relevant to the test method under consideration in deliberating on the scientific validity, utility in a regulatory context, and potential for acceptance by society, after which it issues a final report that is made available for public comment.
Editorial Committee
The Editorial Committee examines validation reports, peer review panel reports, and background information relevant to a test method under consideration and provides this information to related organizations worldwide.
Stakeholder Meeting
The Stakeholder Meeting is convened by the Steering Committee to widely inform the related organizations such as academic societies, industry groups and laboratory animal welfare associations about the new or revised test methods proposed by JaCVAM to public administration.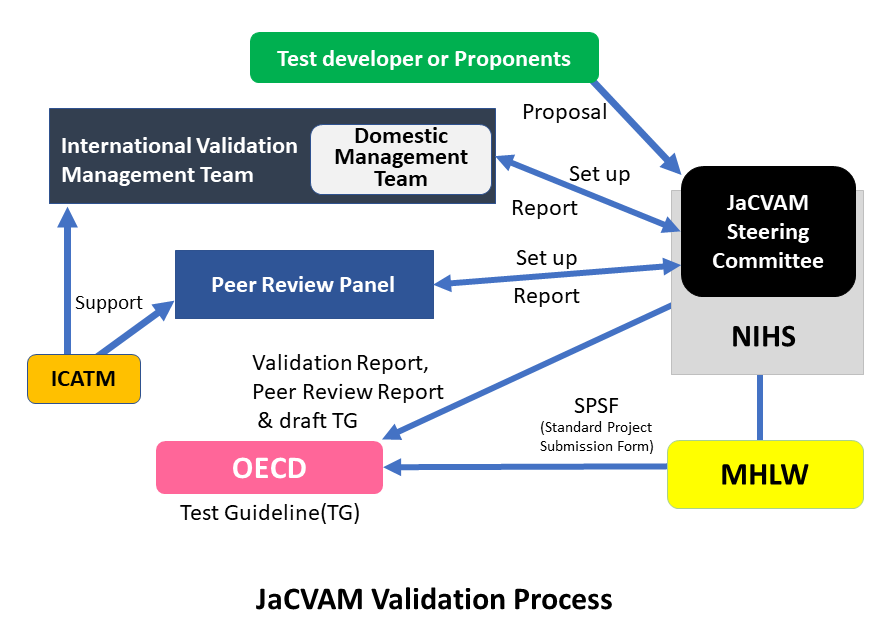 Validation Management Team
Validation Management Teams are responsible for planning and implementing validation studies. In addition, Validation Management Teams review the results obtained during the validation studies and prepare a validation report that includes recommended protocols. Validation Management Teams are established when the Steering Committee determines that a validation study is necessary.
Peer Review Panels
Peer Review Panels evaluate from a disinterested standpoint validation reports and relevant background information in performing a scientific evaluation of the reliability and suitability of the test method under consideration. Peer Review Panels propose the implementation of additional validation testing and subject matter requiring further study. The Peer Review Panels then review these results and prepare a peer review report.